Who is this guy?
When I was a kid I was always fascinated by magic.  I'd spend hours watching the magician at Macy's in New York City, trying to decide which new trick to buy.  More than that, I loved to see the smiles on people's faces when they were entertained by a great magician.  I wanted to do that.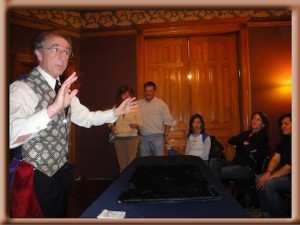 Then, in 1973, on a trip to San Francisco, I met street performer Harry Anderson, later of "Night Court" fame.  We talked.  Harry turned me onto the best magic shop on the West Coast, and poof, I became a "magician."  Or, so I thought.
I soon realized that making people smile and giving them a magical experience took a lot more than just learning some tricks.  To become a true magician, I needed to dedicate myself to becoming an excellent entertainer.
I was one of the four street performers who, in 1977, started the busker scene on the brand new Pearl Street Mall in Boulder, Colorado.  I was a member of the legendary Foan Family Circus.  A featured performer at the original Jolly Jester in Aspen Colorado and Brookfarm Inn of Magic in Washington DC.  I created the Magical Math and Science Show, which I've performed all over the world, from Singapore to Australia to India to Trinidad, and throughout the United States.
In all of this, I've had dedicated myself to people having a great time witnessing the joy of magic.
Check out the SHOWS section to see what I can do for you.